Covenant of Mayors Investment Forum - Energy Efficiency Finance Market Place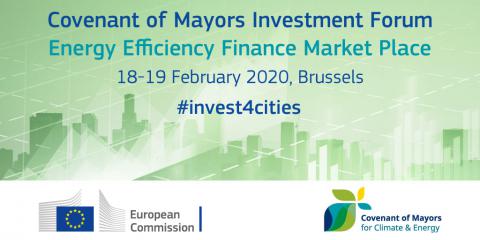 The European Commission's Directorate-Generals for Energy, Climate Action and the Executive Agency for Small and medium-sized Enterprises (EASME) in collaboration with the Covenant of Mayors, are organising the Covenant of Mayors' Investment Forum – Energy Efficiency Finance Market Place. The event is expected to bring together around 500 stakeholders from public authorities, business and financial institutions to showcase concrete and successful examples on innovative sustainable energy planning, financing climate action and sustainable energy measures in order to trigger replication amongst local and regional public authorities.
The 2020 edition will include 30 breakout sessions divided into 6 thematic strands:
Energy Efficiency Finance – Sources of Value;
Future-proof Investments – Financing Climate Adaptation;
Financing Clean Urban Mobility;
Financing Energy Efficiency in the Public Sector;
Financing Home Renovation;
Innovative Sustainable Energy Planning.
The conference will bring together cities, industry and financial institutions to exchange on good practices and successful solutions to common challenges.
Find RenOnBill as part of the Financing home renovation session.
More information on the event's website.